Open til late: feasts for night owls in Cape Town
---
There are plenty of fabulous restaurants in Cape Town that offer you a variety of dishes from seafood to Italian to Asian fusion. There are also the gourmet food trucks and fast food take-away chains. We present you something in between these, when you've either been strolling around town, ended off a large bout of socialising or maybe you just feel like a midnight gobble –the late night snack attack can satisfied with these places.
We ensure that these places are close to holiday accommodation in the Cape Town CBD and surrounds if you're a visitor here.
New York Pizza Slice
Often we have watched films or shows based in New York where the characters indulge in cheesy, pepperoni-dotted pizza slices as big as their faces; using both hands to guide the delicious snack into their mouths. Well, now you can be part of the pizza party by visiting NY Pizza Slice, devotees of authentic New York pizza. The weekdays see them shutting pretty early but on the weekends, you can expect the aromas of mozzarella and fresh tomato to waft down Kloof Street until two in the morning. Go for the classic Pepperoni or the irresistible Staten Island (crushed meat balls, red onion and parsley). If you're in a big group, you can buy a whole pizza pie but be warned: it's for serious appetites.
 Address: 49A Kloof St Hours: Fri-Sat: 10 am to 2am Sunday: 11am to 11pm (Open public holidays & during power cuts) Tel: 021-426 4141
Shawarma Express
This is no ordinary take out joint, the Shawarma Express serves up lamb, chicken schnitzel and falafel shwarmas and pitas at ridiculously good prices. Pay for your preferred menu item and watch as it is filled with fragrant vegetables, salads, chilli (optional) tahini and hummus. You can taste authentic Middle Eastern flavour and freshness in every bite. Not only that, but they stock several well-known craft beers to go with your meal.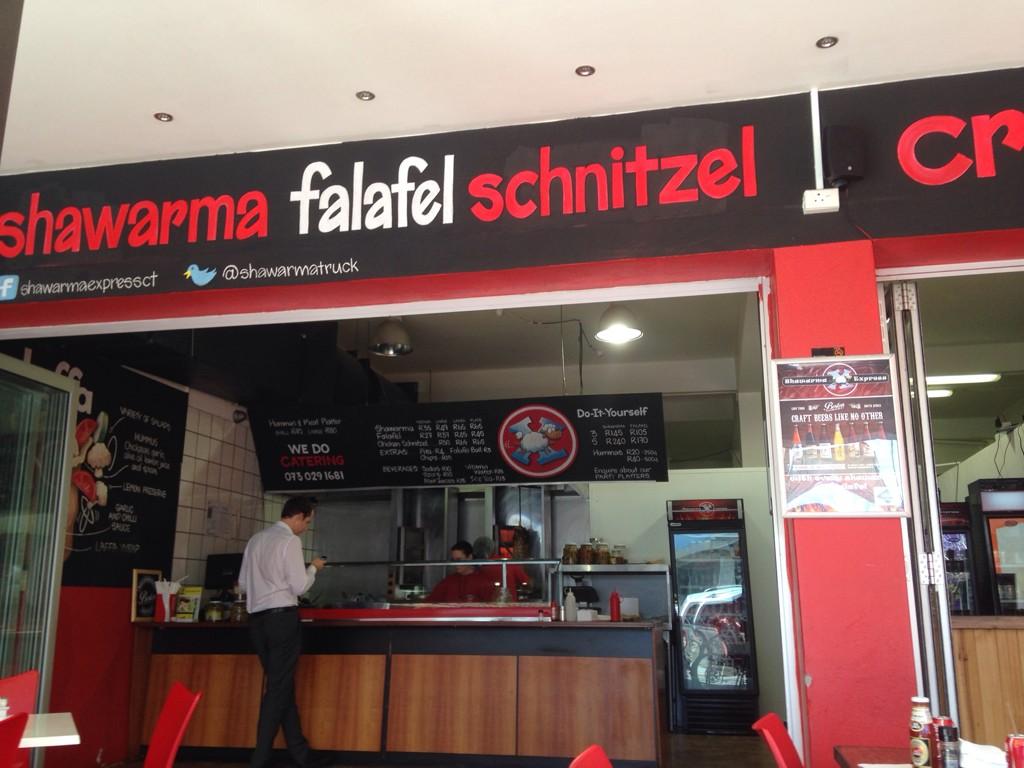 Address: 39 Long Street 315 Sea Point Main Hours: 10:00 am – 12:00 am Tel: 021 433 0275
Franky's Diner
Somewhere between Jack Rabbit Slim's in Pulp Fiction and the high school hang-out from Grease, Franky's Diner presents you with a wave of fifties glam, poodle skirts and rock 'n roll. Now operating 24 hours, this diner has a menu with all the timeless classics –big burgers, double thick shakes, waffles, foot-longs and creatively topped sundaes. Seat yourself in one of their comfy booths and feast on American-style dishes Elvis would be proud of, although don't forget to try a tasty shake. If you're superhumanly hungry, you can always try the Chubby Burger challenge, where customers have 10 mins or less to finish this huge meal (6 Franky's beef burger patties stacked on a sesame bun with cheese, jalapeno peppers, bacon, lettuce, tomato, fried onions, dill pickles, mayo, fries, onion rings and coleslaw), getting the meal for free, a T-shirt and a place on the Franky's Diner wall of fame.
A photo posted by Franky's Diner (@frankysdinersp) on
Address: 303 Sea Point Main Hours: Open 24 hours Tel: 021 433 0445
Sticky Fingers BBQ
Now with three branches in the Cape Town area, Sticky Fingers is satisfying everyone's saucy wings and ribs cravings. Not only are their portions generous and prices reasonable, they have shoestring fries that came with all sorts of toppings, chilli poppers, baskets and craft beers on tap. If you can't stomach beer, the Oreo or Lindt Milkshake will put a smile on your face. An extremely laid back establishment, they excel in delicious yet messy food.
Branches:
Hours: Sunday – Thursday: 12pm – 12am
Friday & Saturdays: 12pm – 1am
Address: 210 on Long St
Tel: 021 422 1861
Address: 96 Station Road
Tel: 021 447 2316
Address: 28 Main Road
 Tel: 021 685 4444
For more accommodation listings visit Cape Letting.