Exploring the best of Joburg on a budget
---
Gauteng is known as a complicated urban warren to navigate without a GPS, as well as being bustling and expensive. For those travelling with a tight wallet, here are a few ways to enjoy this part of our beautiful country without sacrificing your desire for an exciting adventure.
TRAVEL TIPS
ASK THE LOCALS
When compiling this list, I reached out to those who love Joburg and who live there now. By asking people who live in Joburg advice on where to go, you'll end up having an authentic trip without breaking the bank.
TRAVEL AS A GROUP
Often, it is better to travel together to pool resources and take advantage of group deals. Instead of going it alone, book a minibus tour group with friends or fellow travellers and set off along the many meanders Gauteng provides. Book an easy short term or long term rental minibus and you'll be out on the road in no time.
BROWSE AND DON'T BUY
Okay, you can buy something as long as you're within your budget, but Johannesburg has a wonderful selection of markets that are ideal for the browser and appreciator of creativity.
MARKET ON MAIN
A day and night market, this will appeal to all foodies and design lovers. Find your next treasured vintage item, browse up and coming designer wares and snack on gourmet flatbreads or cupcakes.  It also has a nice selection of craft beers and some awesome places to sit and while away a Sunday afternoon.
When: Sundays & first Thursday evening of the month
Where: Arts on Main, Maboneng District, CBD east side
NEIGHBOURGOODS
If you're familiar with Cape Town, you'll find this market packed with similar stalls and foods.   You can also plan a night visit to this area as there is a bustling night life that has started and you can be sure to see some live music and new artists.
When: every Saturday
Where: 73 Juta Street, Johannesburg
THE SHEDS @1FOX
October saw the opening of the city's newest market and it is huge –housed in a former mining warehouse (great for dealing with the weekend crowds). Combining rustic, industrial design with modern uses for old warehouse equipment, this market is bright, airy and a testament to Johannesburg's reuse of vacant lots. Along with craft beer, coffee and wines, you will find crafts, bags and other items on sale.
When: Thursday – Sunday
Where: 1 Fox Street, Ferreirasdorp
INDULGE WITH AN ICE CREAM
Now with the warm weather on its way, it would be foolish to miss out on the magic of Ice Cream Sunday. With childish enthusiasm, attack a Smor Sundae and let the chocolate overwhelm your senses, or fruit sorbet if you aren't a fan of chocolate. There is also a savoury menu for lunch which includes tapas, mini pizzas and potato wedges.
Where: Unit 8, 16 High Rd Bramley
When: the last Sunday of every month
SUNSET AT THE NORTHCLIFF TOWER
The second highest point in Joburg, the Northcliff Tower grants you a ticket to unparalleled views of the city and its surrounds, making it the best place to watch a sunset. The terrain is too rocky for a picnic but makes for a fantastic place to have a few sundowners, take glorious pictures and hang out with your friends whilst reminiscing about the day.
Where: 16 Joseph Avenue, Johannesburg
STROLL THROUGH THE JOBURG BOTANICAL GARDENS
People-watching and walks don't cost a penny and they're so much fun to do, especially with a few friends. The Rose Garden is especially charming for those who want to stroll amongst the blooms while the Shakespeare Garden houses herbs that the 16th century playwright referenced in some of his works.
Where: Main entrance on Olifants Road, Emmarentia, Gauteng
SOCIALISE AT THE ZOO LAKE BOWLS CLUB
A mainstay of the Johannesburg social scene, the Zoo Lake Bowls Club proves that you don't need upmarket décor to party in style. Students are big fans of this place as they have the cheapest beer in town and there are live music and events held regularly. Monday evenings are reserved for big band jazz, for any jazz-lovers. Pub fare is the order of the day, so leave the fine dining palate at home for a night.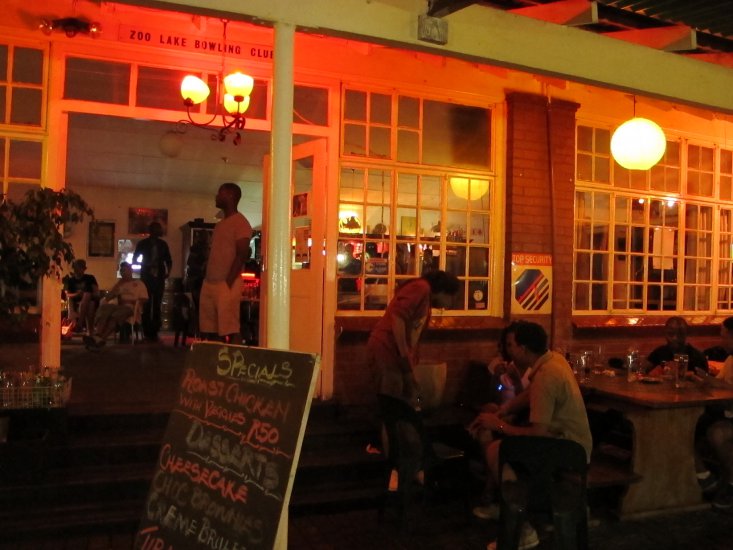 Special thanks to Alex Bernatzky for his Joburg expertise.
Follow him on Twitter: @ABernatzky
Image credit:
joblogza.blogspot.com; http://luckypony.co.za; www.inyourpocket.com; www.afar.com; www.gauteng.net